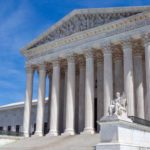 The Supreme Court blocked President Joe Biden's vaccine and testing requirement aimed at large businesses on Thursday, but it allowed a vaccine mandate for certain health care workers to go into effect nationwide.  The President has emphasized the necessity of getting vaccinated against the virus for months and decided to use the mandate on large employers in order to convince Americans to get their shots.
Biden issued a statement praising the ruling on health care workers but criticized the ruling on businesses that will have the much wider effect. "I am disappointed that the Supreme Court has chosen to block common-sense life-saving requirements for employees at large businesses that were grounded squarely in both science and the law," Biden said.  Moving forward, Biden said "it is now up to States and individual employers to determine whether to make their workplaces as safe as possible for employees, and whether their businesses will be safe for consumers during this pandemic by requiring employees to take the simple and effective step of getting vaccinated."
Liberal Justices Stephen Breyer, Sonia Sotomayor and Elena Kagan issued a dissent: "When we are wise, we know not to displace the judgments of experts, acting within the sphere Congress marked out and under Presidential control, to deal with emergency conditions. Today, we are not wise. In the face of a still-raging pandemic, this Court tells the agency charged with protecting worker safety that it may not do so in all the workplaces needed. As disease and death continue to mount, this Court tells the agency that it cannot respond in the most effective way possible."  The rule would impact some 80 million individuals and requires employers with 100 or more employees to ensure that their employees are fully vaccinated or undergo regular testing and wear a face covering at work. There are exceptions for those with religious objections. During oral arguments, the Biden administration asked if the court says employers can't require the employees to get the vaccine, it should leave in place an alternate requirement for masking and frequent testing. The majority rejected that request Thursday.
The court allowed to take effect the vaccine policy rolled out in November by the US Department of Health and Human Services' Centers for Medicare & Medicaid Services, which sought to require the Covid-19 vaccine for certain health care workers at hospitals, nursing homes and other facilities that participate in Medicare and Medicaid programs.
Editorial credit: Steven Frame / Shutterstock.com