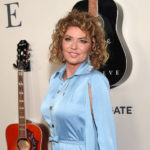 Shania Twain took to social media to announce that she will release her new single 'Waking Up Dreaming' this Friday, Sept. 23rd.   Saying she is entering the "next chapter" of her career, Twain wrote: "Every time I get to announce something like this I get such a rush of adrenaline and nerves – it never gets old. I am super excited to share with you that my new song 'Waking Up Dreaming' is coming out this Friday!!  I've spent the last couple years working away on new music… on my documentary… on the Vegas residency and it's been such a creatively fulfilling time for me, I can't wait for this next chapter and Waking Up Dreaming is just the start.⁠"
Twain teased new music in her Netflix documentary film 'Not Just A Girl', which saw her in the studio in London finishing work on tracks for the project: "I am here in London finishing my album – and getting with some great UK talent and creatives," she said, before offering a look into studio sessions with producer Mark Ralph.  Twain also worked with the Ralph on further tracks for the project, two of which she previewed in the film.
To pre/save 'Waking Up Dreaming', head here.
Editorial credit: DFree / Shutterstock.com