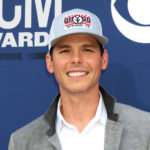 Granger Smith has just released his latest album Moonrise and announced his acting debut as the star of the upcoming film Moonrise, available on December 15th. Produced by Granger with John Marlin, every song on the new album will also be featured in the film.
In the movie, Smith portrays Will Brown – a country music artist with three kids who has lost his wife in a tragic accident and must seek redemption with his music and his family. Smith felt connected to the character after reading the script and upon learning there wasn't any music for the film, Granger became the movie's musical supervisor and wrote all the songs for the movie.  Said Smith:"I definitely didn't expect to record an album this year (or at least in this way)!  Last holiday season when I accepted the lead role in the movie, I spoke with the director about a song mentioned prominently in the script called 'Forever Forward' among others. I said, 'Can you send me this song, so I can learn it?' and she replied, 'Oh, we don't have that yet, but we'll find it!' So, I decided the easiest thing to do would be to write the songs to fill in the gaps for the film. Before long, I had 12 brand new songs and a complete album. This was so different than any other process of music making that I've been involved in with, and I LOVED every minute of it."
You can stream the album "Moonrise" –here.
Smith also premiered the official music video for the song "In This House" from his new album and upcoming film.  Take a look at the video on YouTube – here.
Editorial credit: Kathy Hutchins / Shutterstock.com