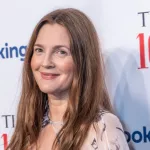 Drew Barrymore announced that Season 4 of her daytime talk show 'The Drew Barrymore Show' will begin taping this month amid the ongoing Writers Guild of America and Screen Actors Guild strikes. Paramount announced last week that the talk show would return for the fall season with "a lineup of cutting-edge guests and key influencers." While upcoming guests have yet to be named; and members of the Screen Actors Guild – American Federation of Television and Radio Artists (SAG-AFTRA) have been on strike since mid-July.
In a lengthy Instagram post, Barrymore confirmed reports that her daytime talk show would be returning for its fourth season in the midst of the WGA and SAG-AFTRA strikes. Barrymore's statement read: "I made a choice to walk away from the MTV, film and television awards because I was the host and it had a direct conflict with what the strike was dealing with which was studios, streamers, film, and television. It was also in the first week of the strike and so I did what I thought was the appropriate thing at the time to stand in solidarity with the writers … And to be clear, our talk show actually wrapped on April 20th so we never had to shut down the show. However, I am also making the choice to come back for the first time in this strike for our show, that may have my name on it but this is bigger than just me. I own this choice. We are in compliance with not discussing or promoting film and television that is struck of any kind."
Barrymore went on to say: "We launched live in a global pandemic. Our show was built for sensitive times and has only functioned through what the real world is going through in real time. I want to be there to provide what writers do so well, which is a way to bring us together or help us make sense of the human experience. I hope for a resolve for everyone as soon as possible. We have navigated difficult times since we first came on air. And so I take a step forward to start season 4 once again with an astute humility."
When 'The Drew Barrymore Show' returns with new episodes on Sep. 18, it will join daytime talk shows including The View, Tamron Hall, and Live with Kelly and Mark. Barrymore and CBS maintain that the show will remain in compliance with the strikes and refrain from promoting studio work, however, the official Twitter account for WGA East has announced plans to picket show's tapings in the coming weeks. Actors and writers are technically allowed to appear on talk shows, they must restrain from promoting any work distributed, produced, or financed by studios or streaming platforms that are part of the Alliance of Motion Picture and Television Producers (AMPTP).
The Drew Barrymore Show will return on Monday, Sep 18.
Editorial credit: lev radin / Shutterstock.com